De-Icing Services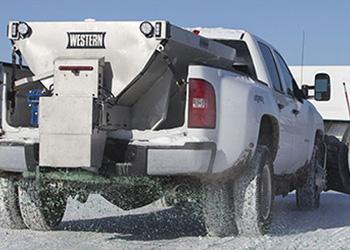 A proactive de-icing program is a crucial component to any snow and ice management plan. Our strategically positioned salt storage facilities and variety of salt truck sizes allows us to provide the most efficient and effective ice management possible.

When paved surfaces begin to freeze from falling precipitation, de-icing operations begin on our properties and will continue until all paved surfaces are bare or until which time as applying salt or de-icing agents are no longer effective due to the snow depth. The more traffic on your property, the more effective the salt will be. At GreenWise Grounds Care, LLC we utilize a variety of De-Icing as well as Anti-Icing practices.
Anti-icing is an approach in which snow and ice control materials are applied before or immediately after the start of snow event. The goal of anti-icing is to prevent snow and ice from sticking to the pavement surface. This is often referred to as 'pre-salting' when performed prior to the beginning of the storm.

De-Icing applications are completed after an accumulation of snow or ice to melt the precipitation and to improve safety and accessibility. Salting is an inevitability in our market as fluctuating temperatures can cause thaw and freeze cycles.
Deicing is just one vital service that is available from our full list of snow and ice management services provided in the Northeast Ohio region.