Sidewalk Clearing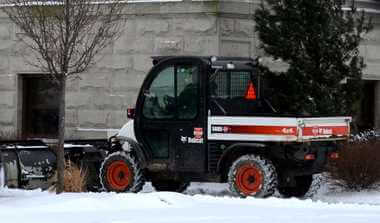 Ensuring safe access to walkways, handicap ramps, steps and building entrances leads to a reduction of slip-and-fall incidents. Although several of our competitors are reluctant to provide sidewalk cleaning services, we understand that such services are vital to a complete maintenance plan. We employ dedicated sidewalk crews who have undergone extensive training and received site specific instructions. We clear sidewalks employing a variety of equipment dependent on your properties unique needs. From shovels, snow blowers to UTV's with snow plows we'll use the right equipment too safely and efficiently clear your walkways. We utilize highly effective de-icing materials on walkways that are capable of melting snow or ice in temperatures that reach as low as -35 degrees Fahrenheit.
Maintaining walkways and steps to clear them of ice and snow insures safe access for visitors and employees alike. GreenWise Grounds Care, LLC works 24/7 during snow storms to keep your walkways safe and accessible, arranging return visits when storm systems linger and dump continuous snow and freezing rain.

Call (216) 532-5296 to schedule an appointment for a free consultation or Request a Quote online.