Snow Plowing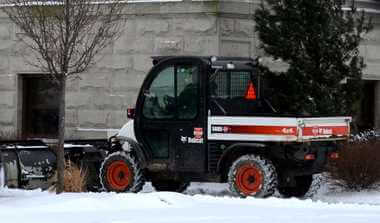 We recognize what it takes to handle the harshest of winters in Northeast Ohio. While the best team members and suitable equipment are vital to a successful operation, it all starts with advanced planning and details. Prior to the winter season, we will visit each property to review the site, carrying out a detailed pre-season assessment, documenting key areas, and beginning to lay the groundwork for a snow and ice response plan. We then employ web-based technology to formulate an aerial image of the site, overlaid with detailed information for the location of snow piles, higher priority areas, and any special instructions for the team members.
We ensure that a unique approach is established for each property, as well as the assignment of the required equipment, operators, sidewalk crew, materials, and supervision. This forward planning allows our team members to arrive on site and know what needs to be completed.

Snow plowing can be performed by an array of different equipment, from skid steers with large pusher boxes to large trucks with snow plows and salt spreaders, depending to the size and special needs of the property. Our experienced snow plow operators carefully place the snow in the correct locations, determined by the predesigned plow map being cognizant not to pile snow on islands, around fire hydrants, or on any landscaping.