Commercial Grounds Maintenance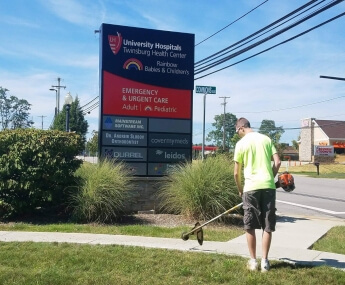 GreenWise Grounds Care is the perfect company to hire if you're looking for a well-maintained landscape all year round. As a full-service landscape maintenance company, we are able to handle all of your landscape's maintenance needs. GreenWise delivers year-round commercial grounds maintenance solutions that include lawn mowing, bed maintenance, spring, and fall cleanup, pruning, aeration, and snow or ice removal. We will work with you to learn about your needs, and then we will supply the expertise and equipment to deliver the greatest value for your commercial grounds maintenance needs. We have professional crews who are properly qualified in a variety of commercial grounds maintenance jobs and are capable of completing specialized tasks for your commercial property as well. Furthermore, our expertise in this area of landscaping maintenance is refined by our extensive experience in commercial & industrial lawn maintenance. Many of these maintenance tasks were located in Kent, Stow, Cuyahoga Falls, Silver Lake, Ravenna, Streetsboro, Twinsburg, Solon, Hudson, Tallmadge, and surrounding areas.
Call (216) 532-LAWN to schedule an appointment for a free consultation or Request a Quote online.
Commercial Landscape Maintenance
One of the best things about hiring us is that we have the capabilities to handle all kinds of landscape maintenance tasks making us the #1 choice of property managers and business owners alike in Northeast Ohio. From simple commercial lawn mowing to performing more difficult maintenance tasks and larger landscape projects, we always guarantee outstanding results. Commercial grounds maintenance is a vital part of any business. Choosing the best commercial lawn care company for your commercial grounds will help keep your grounds attractive and safe year round. You can trust GreenWise to keep your grounds looking neat and polished for your guest, employees, and visitors. Are you in need of commercial grounds maintenance? Read on to learn more about some of the services we can provide you, regardless of the type of property you own or manage.
Commercial Grounds Maintenance Services Offered
We realize that the needs of your property will most likely be an ongoing concern. Therefore, we offer the following commercial services:

Of course, these are not all of the services we can offer. If your desired service is not listed, please give us a call or send us a message. We are confident that we can meet all your maintenance goals and requirements both efficiently and professionally.
Professional Landscape Maintenance
We are recognized in Northeast Ohio for our professionalism and highly customized landscape maintenance services. Our grounds care technicians will work hard to complete your grounds maintenance tasks in a safe and efficient manner the first time. We're not just in the commercial lawn mowing business; we are in a relationship building business. The relationships that we forge and foster with our clients are a point of pride for us. Whatever services you may need, we will be pleased to go above and beyond exceeding your expectations every time.
Trust GreenWise with all of your commercial grounds maintenance tasks. With us as your service provider, you'll receive direct, personal, and prompt local service, and a strong connection we hope to continue and nurture for years to come. Being a local business, we can provide you the responsive communication, on-time service, and unparalleled quality that can't be delivered by national grounds management companies.
Interested in learning more about our commercial grounds maintenance services? Give us a call or send us an email to learn more about what we can do to keep your commercial property always looks its best.
Call (216) 532-LAWN to schedule an appointment for a free consultation or Request a Quote online.